Stand out with our Hand-Carved Wooden Animal Ball Pens.We believe in delivering
value and quality assurance to make you feel confident and secure in your choices. 
Here are some of our products that customers love:
wooden pen
The most popular style
wooden pen
The most popular style
wooden pen
Birch wood color
wooden pen
Natural wood branch
wooden pen
The most popular style
Wild animal
Hand carved aniaml pen
Original Designs: 
The novelty wooden carved pen was beautifully handcrafted into different animals designs with natural appearance.
Each a masterpiece that captures the essence of nature.With a range of styles that span the animal kingdom, from majestic lions to graceful eagles, each pen boasts a unique and lifelike appearance.
Customizable Designs: 
Our original designs set us apart, and if you have something specific in mind, we can customize it just for you. Share your vision, and let us bring it to life.
To save you time, we have also prepared a catalog containing many different wooden carving pens, only leave your email and get the catalog immediately.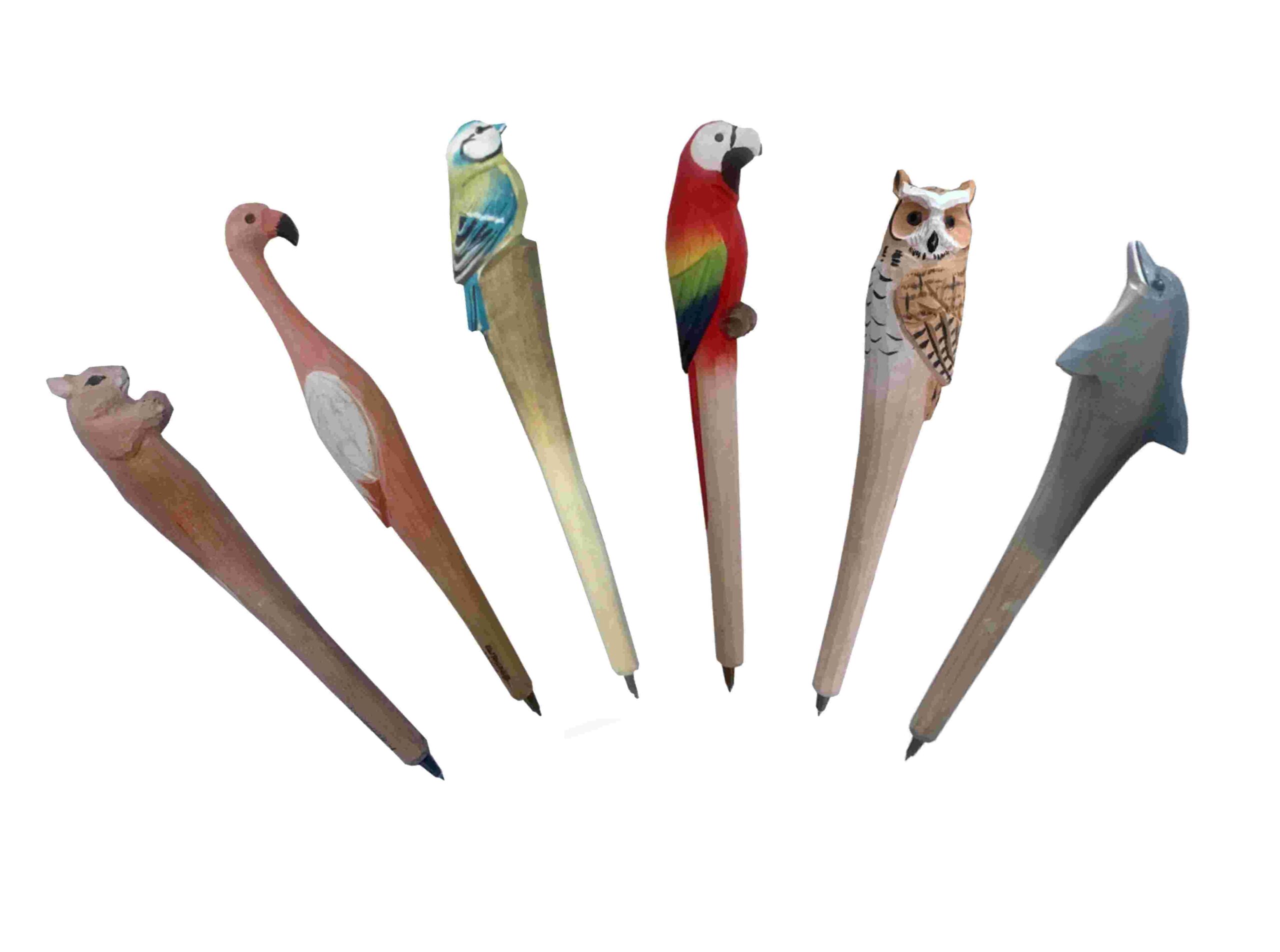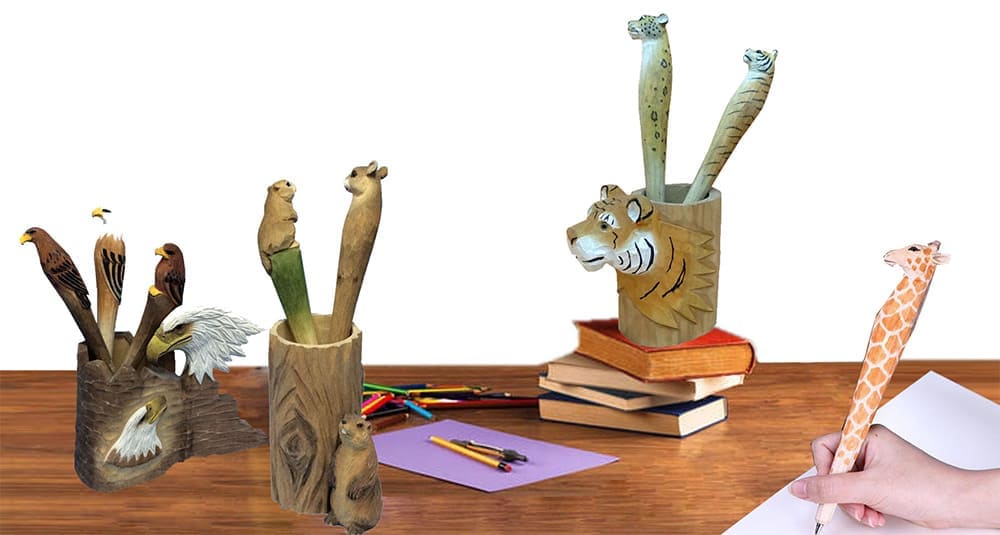 Why not choose to use these innovative hand-carved wooden animal pens instead of plain and monotonous ones in your work environment?
The benefits:
Superior Materials: Crafted from quality basswood sourced from the majestic Changbai Mountain, guaranteeing durability and a premium feel.

Environmentally Friendly: We use eco-friendly water-based paint for the surface finish, aligning with global sustainability standards.

Quality You Can Trust: Each pen undergoes strict quality control and passes EN71 testing, a testament to our commitment to excellence.

Fair Pricing: Achieve a luxurious look without breaking the bank. Our pens are priced competitively without compromising on quality.

Support customization: Customizable to a wide range of product shapes and sizes.

Professional After-Sales Service: Your satisfaction is paramount. Our dedicated team is ready to assist you at every stage.
Specifications
of Wooden Animal Pen
Each pen undergoes a stringent quality control process, assuring functionality,
aesthetics, and longevity. But due to the these pens are carved by hand,
resulting in slight variations from animal pen to animal pen.
Material: Basswood
Design: Multi styles,refer to the pictures
Size: About 19 cm/ 7.48 inches

Ink refills: Blue color,in 5.5cm length,point 0.7mm
Validity period of pen refills:  2 years
EXQUISITE WOODEN CRAFTSMANSHIP:
Skilled artisans select quality wood materials, considering factors such as grain patterns, durability, and aesthetic appeal.The wood is then carefully shaped.
The wooden pen is usually crafted from basswood and adorned with intricate details, with non-toxic water-based paint.
NATURE'S ELEGANCE IN EVERY STROKE:
Experience the seamless glide of our animal-themed pen, complete with a polished wooden grip and a precision needle point (0.7 mm) for impeccable writing.
This masterpiece, refillable and built to last, offers a writing experience as refined as its wooden origins.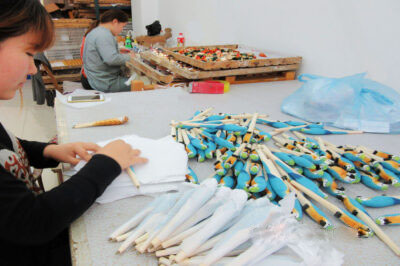 Package includes :
Barcode labels:If needed, we can customized as your requirement.
Inner box: 24pcs per box
Carton: 480pcs (20boxes) per carton
Shipping marks : If needed, it can be added in the carton
About order :
MOQ (minimum quantity): 360pcs per model
MOA (minimum amount):usd3000 per order
LCL for small order less than MOA: usd300
Lead time: 60-90days according to quantity
A Brief Self-Nomination,​

Things you Need to Know
To save you from worries, here are some facts you need to know about our wooden pen supplies:
Estimated

Cost Analysis

For Wood Pen
Please note that the final cost depends on the customized service you require, the specifications of
the raw materials used, the relevant national laws, and the distance of transportation.
Below is an outline of costs you will incur:
A single sample could be supplied free for checking quality if required.But the express freight would be on your cost. With several samples, you'll pay a bit more.

Take Europe and the US for example:  Air/Express:$7-$10/kgs .............. . Ocean freights : -The basic port freight in Europe is $10-$30/cbm. -----The basic port of the United States East is about $60-$140/cbm -------The freight of western basic port is about $70/cbm  

Miscellaneous Fee ​

based on pratice

It is any other fees relating to taxes, service fees, penalties,and late fees. They are usually low-cost amounts.
Our patrons can't stop praising the superior quality and
individualized approach that distinguishes them from the competition.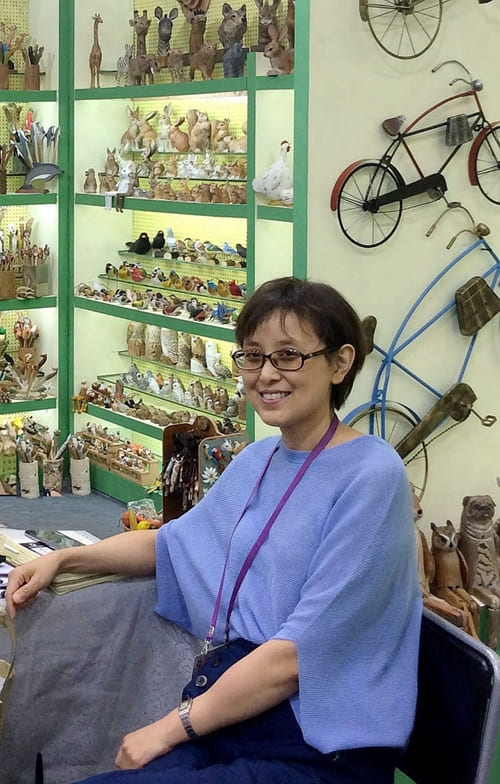 Reach

& Get In Touch With Us !